PLAN YOUR VISIT TO IPC - 2019!
Join thousands of trade professionals to identify new business opportunities, market trends, and potential business partners. This is where the leaders of the power sector profession come in. We are delighted to be working in partnership with EY India and pending support from Ministry of Power, GoI to make India Power Conference, January 16-17, New Delhi the ideal meeting place to refresh your knowledge, update your thinking and share best practice within the sector's community.
Attend the conference and hear from Senior Ministry of Power officials on India's vision and growth plan for power sector, also explore new business avenues with strategic networking. Register today at sonali.angurala@elekore.com.
REQUEST FOR UPDATED BROCHURE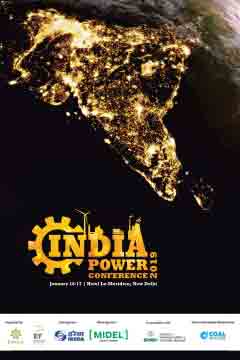 HOW TO MAXIMISE YOUR PARTICIPATION AT IPC - 2019

CONNECT WITH LEADING POWER COMPANIES
across the full value chain that are keen to do business, showcase products, services and new innovations.

LEARN FROM INDUSTRY EXPERTS
who shape the power industry and influence the decision making process.

NETWORK WITH KEY DECISION MAKERS
meet with new and existing clients to drive business growth and find opportunities.
KEY TAKEAWAYS
Senior Industry Speakers - the India Power Conference (IPC - 2019) will bring together Who's Who of the power industry to discuss and deliberate on the pressing issues.
Networking - Strategically placed networking breaks will ensure your meeting with new & existing business contacts, Register now to get access to the 2019 participants list, conference agenda, updates to maximise your ROI.
Knowledge - EY India associated as knowledge provider for IPC - 2019, shall be enlightening the delegation with brief background and a knowledge paper* during the inaugural session.
Panel Discussion - A high level panel discussion will be held on Day 2 of the conference to deliberate on electricity trade with neighbours.
Book your hotel accommodation - Special negotiated rates have been arranged for IPC - 2019 delegation, contact Pamita Singh at psingh@lemeridien-newdelhi.com and quote "IPC - 2019".
Deliberations - Elekore shall be compiling the findings and prepare detailed recommendations post conference which shall be made available to attendees and shared with the government & policy makers.
Target Audience - carefully picked and targeted, you will find senior and relevant audience for your business networking.
Key Themes - This year's theme includes emerging market designs, policy & regulatory frameworks, EV, energy storage, logistics & transportation hurdles for fuel, RE and its integration and performance check of distribution companies.
Hear From: - A small introduction of speakers :

A K Bhalla, Secretary, Ministry of Power*
P K Pujari, Chairperson, Central Electricity Regulatory Commission (CERC)
P S Mhaske, Chairperson, Central Electricity Authority (CEA)
Gurdeep Singh, CMD, NTPC Ltd.
I A Khan, Chairman, Telangana State Electricity Regulatory Commission (TSERC)
Shashi Bhushan, Member - Traffic, Inland Waterways Authority of India (IWAI)
Sanjeev Mehra, MD, TATA Power Trading
R C Agarwala, MD, Noida Power Company Ltd.
Subir Sen, Executive Director, PowerGrid
H S Bajwa, ED - Coal, Ministry of Railways
Rajesh Bhushan, GM - Marketing, Coal India Ltd (CIL)
Harish Chander, EVP, Edelweiss ARC, and many more,
QUICK AND EASY WAYS TO REGISTER

E-MAIL
Delegate can send their interest directly to conference secretariat via e-mail:
Conference Secretariat IPC - 2019:
Sonali Angurala (Delegation Manager)
E: sonali.angurala@elekore.com
T: +91 124 4794 094
M: +91 8377 859 575

REGISTERATION FORM
Interested delegation can send their duly filled registeration form directly to:
Conference Secretariat IPC - 2019:
Sonali Angurala (Delegation Manager)
A: 149, Tower B-2, Spaze I-Tech Park
Gurugram - 122002
T: +91 124 4794 094
IPC - 2019 SUPPORTERS, SPONSORS AND PARTNERS
Click here to unsubscribe